PREDICT THE FORECAST BY WATCHING THE CLOUDS – BASICS FOR KITESURFERS
You might predict the forecast by watching the clouds. So as a kitesurfer you should be well aware of the clouds. 
My name is Petar Pavlovic, I love sharing my Kitesurf experience with you.
Let's find out:
How clouds are formed

What different cloud types are there

What is the Cold and Warm front 

What to expect when you see them approaching

I will share with you which app you can download on your phone to detect any storm coming 
When the sun shines on the oceans, lakes and rivers, it makes a water vapor which rises into the sky. As it gets higher, the air gets colder. The Vapor cools down enough that it turns into liquid again. This time it sticks on tiny little things like dust, dirt and smoke and this is how the clouds are formed.
3 LEVEL OF CLOUDS:
High Clouds are Cirrus, Cirrostratus and Cirrocumulus.

Middle Clouds are Altostratus and Altocumulus.

Low Clouds are Stratus, Stratocumulus, and Nimbostratus.

There is also a fluffy cloud called Cumulus which can evolve into a big vertical cloud called Cumulonimbus. 
Now, let's talk about the clouds which you should be aware of as a kitesurfer. Moreover how to predict forecast by watching the clouds.
I would not say that kitesurfing on a super cloudy weather is dangerous but you have to be aware of what might happen. As I mentioned in my previous episode Cloudy weather appears mostly during low pressure system. This means unstable weather, so you might expect that the wind changes it's strength every couple of minutes. 
It could start raining and might even shut down the wind. There is also a chance of lightnings, if you see or hear thunder you should immediately end your session as the kites are the perfect attraction for lightnings.
HOT TO PREDICT THE FORECAST BY WATCHING THE CLOUDS DURING COLD FRONT 
You might see Cold front on the meteo forecast as a blue line with spikes .This is when the High Pressure or cold air is quickly moving to replace warm air or Low Pressure.  
If you are kitesurfing during a Low Pressure system, probably cloudy weather and you see a big cloud with lightnings quickly approaching, which is called Cumulonimbus, this is the indication of a Cold Front. 
I highly recommend to immediately end your session. As Cumulonimbus is an unpredictable and very dangerous cloud often creating lightnings and heavy rain. This cloud might drastically increase the wind, change the direction of the wind or shot down the wind completely. This cloud is also capable of sucking you in.
Even during super sunny days and often on spots with thermal wind you might see the cumulus cloud on top of the mountain evolving into a Cumulus Congestus and then into a Cumulonimbus. It will then travel towards the sea and expend all over the sky. Most often the storm of Cumulonimbus last from 30min to 2 hours. After this there will be a clear sky with small amount of clouds.
HOT TO PREDICT THE FORECAST BY WATCHING THE CLOUDS  WARM FRONT
You might see Warm Front on the meteo forecast as a red line with bubbles. This is when Low Pressure or Warm air is slowly replacing Cold air or High Pressure. Honestly I witnessed Warm Front only once in the last 15 years I'm kitesurfing. So I didn't manage to do any shots and I didn't manage to find any video on internet to show you how it looks. 
It was during High Pressure, sunny day, some high clouds in the sky appeared, like cirrus which can be an indicator of warm front coming. The sky slowly became grey and we could see in a distance a super dark and flat cloud slowly approaching. 
It started blowing quite strong and cold wind from the direction of where the cloud was coming from. This cloud is called Nimbostratus. I wouldn't say that it was dangerous kitesurfing in this situation as the Nimbostratus or warm front are approaching slowly. 
However once the Nimbostratus got closer it brought lightnings and it started raining. As a result it shot down the wind completely. After this it was warm air and we had rain for many days.
MAIN DIFFERENCE IN LOOKS BETWEEN CUMULONIMBUS AND NIMBOSTRATUS
Cumulonimbus is a big vertical cloud that can reach around 12km of height and it is moving quickly. 
Nimbostratus is a low-middle cloud, flat, super dark and it is moving slowly.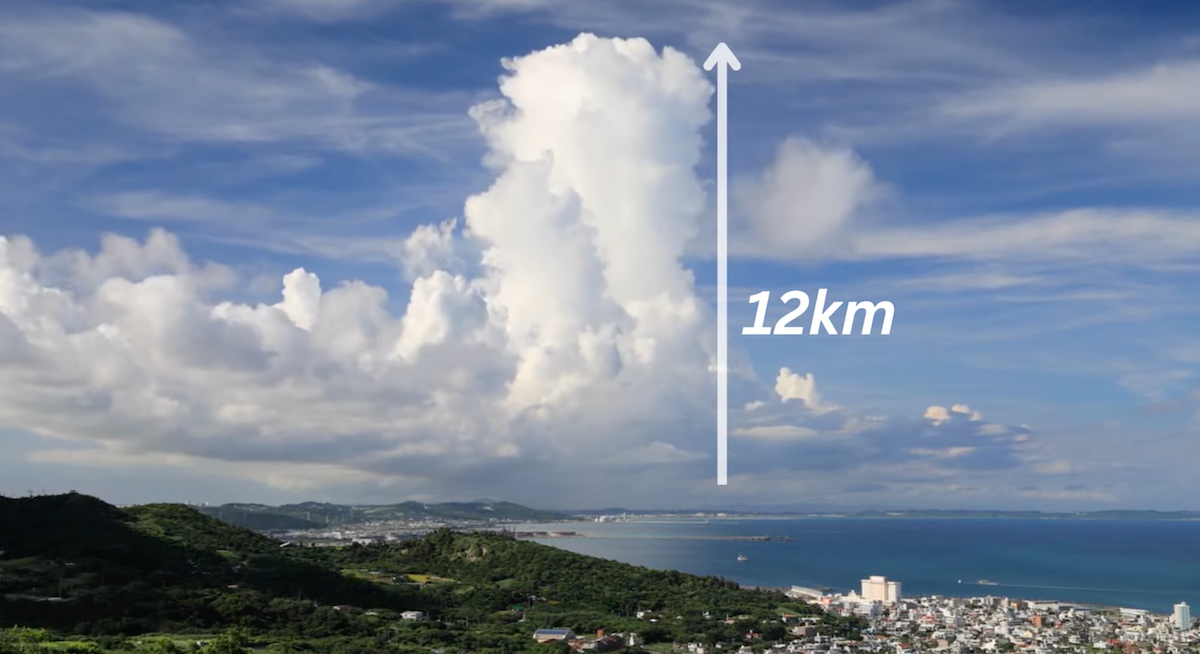 DOWNLOAD THE APP ON YOUR PHONE.
Luckily you don't have to predict the forecast by watching the cloud always on your own. Since we are living in a modern era I recommend downloading this application called "Weather and Radar" or maybe an app similar to it. 
On this app you will see what is going on with the clouds, rain and storms around your area. It's quite accurate for the next 2 hours. If before my kite session I see some suspicious clouds, I always check the weather and radar to see what might happen. 
If during a windy day it starts raining a lot, I check the radar to see for how long it will last. Honestly this app made my kitesurfing life much easier and safer. 
I found weather and radar applications to be very accurate around Europe but unfortunately in the Domenican Republic it was not able to predict the forecast.